Early discussions on article concepts similar to the later Granville Sharp stuff.
Not including Erasmus and Beza, who are handled separately.

=================

Salomo Glassius (1593-1656)
http://en.wikipedia.org/wiki/Salomo_Glassius

Christian Noldius (1626-1683)
https://words.fromoldbooks.org/Chalmers-Biography/n/noldius-christian.html

check for the right Rambach - it was long ago in 1834 so it is more likely:
Johann Jacob Rambach (1693-1735)
https://de.wikipedia.org/wiki/Johann_Jakob_Rambach_(Theologe,_1693)
or possibly
Johann Jakob Rambach - (1737-1818)
https://de.wikipedia.org/wiki/Johann_Jakob_Rambach_(Theologe,_1737)
unlikely:
August Jacob Rambach (1777-1851)
https://de.wikipedia.org/wiki/August_Jacob_Rambach

Augustinus Dathus (Dalthus)
Agostino Dati (1420-1478)
https://en.wikipedia.org/wiki/Agostino_Dati
http://www.uni-mannheim.de/mateo/itali/autoren/augustinus_itali.html

===============

Theological Repository (1784)
https://books.google.com/books?id=jQUUAAAAQAAJ&pg=PA374
p. 374-380

This article is sent in by "Erasmus" and covers Glassius and Noldius.

Granville Sharp had started up with his nonsense in 1778,.
1778 letter - p. 1-24 (not sure if it was published anywhere at that time, and it may have a lot of back-editing.)
https://books.google.com/books?id=e1oXAAAAYAAJ&pg=PA1
Glassius, in his Philologia Sacra, Lib. 3. Tractat. ii. makes the following his Third Canon. False hypotheses and errors may easily arise, and be introduced by a nice and needless attention to the Article.

In his enlargement upon this canon, he observes, that the article very frequently, nay, most usually, is destitute of emphasis ; that no stress can or ought to be laid upon the presence or absence of it, for the proof of any doctrine ; and that, therefore, certain rules respecting it, which he mentions afterwards (and which follow) rest on a very slippery foundation. ...
https://books.google.com/books?id=jQUUAAAAQAAJ&pg=PA374 - 1784 - Glassius was c. 1640
ECW
Didymus Alexandrinus ...
Origen ...
Asterius, the friend of Arius ...
Athanasius quotes Asterius
Photinians and some early church writers

(Socinius ,a certain rule ..) ****
Bellarmine and Antichrist
Luther
Joseph Scaliger
Causaubon
Christian Noldius

Notice how some of these are ECW!
===============
The Biblical Repository, Volume 4 (1834)
Prof. Stuart on the Greek article
https://books.google.com/books?id=ceQZAAAAYAAJ&pg=PA304

Glass and Rambach long ago called in question the rule that we have now been examining; and Winer and Matthiae have most fully shown how small a claim it has upon our acknowledgment.
===============
Barry Hofstetter
The same source on b-Latin turned up a quotation from Carlo Passaglia, (19th century) who cites Augustinus Dathius (or Dathus) with a nearly identical statement. If the attribution is correct, it's quite significant, since Dathus is a 15th-early 16th century figure (a contemporary of Erasmus). It's quite possible that Glassius was using Dathus without attribution.
https://web.archive.org/web/2014021...11/13/glassius-beduhn-and-the-kjv-translators
===============

Carlo Passaglia (1850)
http://books.google.com/books?id=5QlMAAAAYAAJ&pg=PA352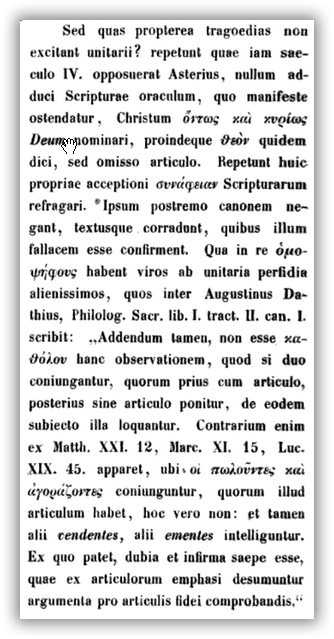 ===============

In 2011 some of Glassius material was discussed on the B-Latin Yahoogroup forum.
That has a Glassius pun and other material.
Last edited: